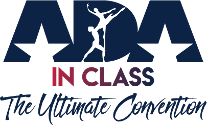 Bringing the best of American Dance
Awards from the stage into the
classroom!
By offering more intimate class sizes, students benefit from an individualized approach. Our incredible line up of educators have one goal – your dancers' growth. ADA in Class will help kickstart your season on the right foot! Dancers receive invaluable feedback directly from ADA's finest, prior to the competition season.
Faculty will proudly award scholarships in the form of Regional and National solo entries, to encourage dancers to take what they've learned in our workshops and apply it out on our stage!
Workshop fee - $200

five 90-minute classes offered in multiple genres!

Classes run from approximately 9am-5pm

2023 Fall Convention Dates
October 22, 2023
Buffalo Marriott Niagara 
November 12, 2023
Rhode Island Convention Center
December 3, 2023
DoubleTree by Hilton Boston Northshore