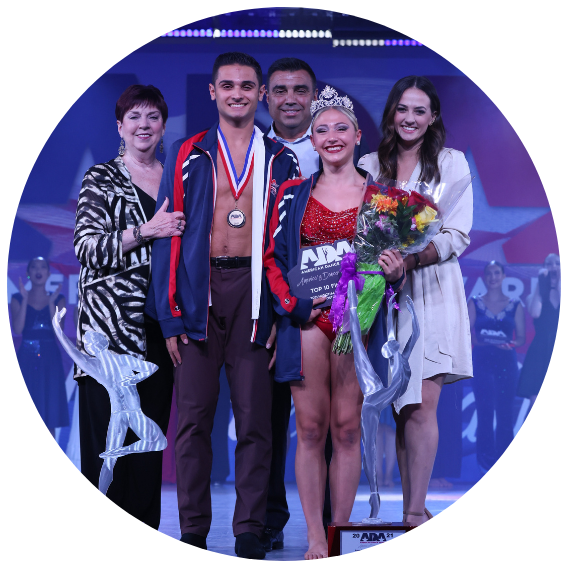 The American Dance Awards has set the industry standard for dance competitions, conventions, and events for over 40 years. Founded on the pillars of integrity, education and inspiration, we strive to give dancers, teachers, and families the experience of a lifetime – every time.
American Dance Awards prides itself on fair, realistic scoring through our database driven tabulation system and by utilizing all medal standings. Our highly respected judging panels are comprised of the brightest minds in the industry, whose focus is your dancers' growth.
With an emphasis on teaching and not telling, you will leave with HD video critiques that are filled with priceless steps to success.
American Dance Awards gives dancers the opportunity to forge invaluable connections within the dance industry, equipping them with a network of professionals as they begin on their own career paths! We employ judges, faculty and staff that are passionate about investing in the future of your dancers.
When all the medals and trophies have been distributed, studios return year after year for the family friendly, professional atmosphere. We run on-time competitions where your dancers' experience is the priority, and exceptional client care is our always our goal.
Join us in a city near you, and we are confident you will see why American Dance Awards is the Ultimate Challenge!
Integrity, Education, Inspiration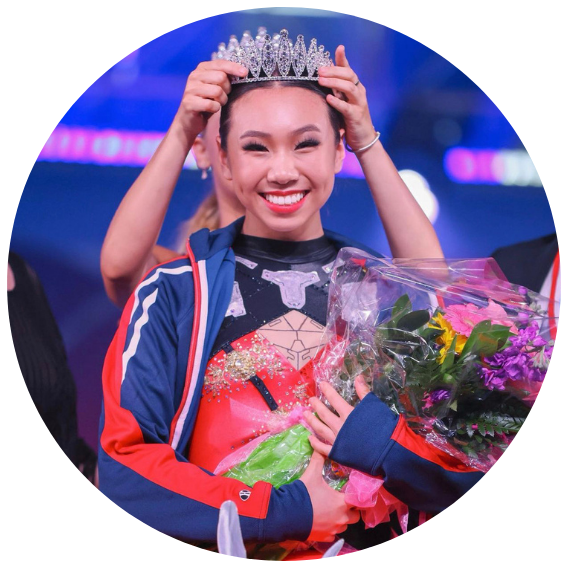 American Dance Awards was founded in 1979 by Rhee Gold.
In 1989, ADA hosted its first ever National Championship showcasing overall winners in two age divisions. In 1992, America's Dancer of the Year was created, followed by America's Choreographer of the Year in 1995.
In 1999, Gloria Jean Cuming became a director and revolutionized the dance competition industry, bringing her studio owner and dance teacher perspective to the table.
Now under the ownership of her son, Bobby DiNicola, American Dance Awards continues to inspire, educate, and motivate dancers around the world! After 42 seasons, we continue to work diligently to uphold the same standard of excellence you've come to know and love at ADA, while evolving and innovating to give you the experience of a lifetime – every time!
Julie LaMancuso is the National Tour Director of the American Dance Awards, and the Director of ADA in Class. After growing up competing on the ADA stage, Julie transitioned into a regular adjudicator, teacher and choreographer for the company, both at the Regional and National level. Julie is also a sought-after choreographer and teacher based out of Buffalo, NY. Known for her high energy classes and award-winning choreography, Julie has been on faculty and taught as a guest artist at many of Western New York's premier dance schools. She is an alumni of the David DeMarie Dance Studio, was a founding member of the Buffalo based pre-professional contemporary company Infinity Dance Project, and trained at the American Academy of Ballet.
Julie obtained her Bachelor of Arts degree from the University at Buffalo in Dance in 2012. Julie's work has represented the University at Buffalo's Department of Dance at the American College Dance Festival at Penn State University. She served as the Assistant to the Director for both of the university's resident dance companies, Zodiaque Dance Ensemble and Zodiaque Dance Company, which gave her invaluable experience in arts management and theatrical production. Julie is a past recipient of the Amanda Occhino Endowment Scholarship of the Arts, given annually to the dance major who shows the most dedication to the program of Theatre & Dance.
In the summer of 2011, Julie was named America's Young Choreographer of the Year at the American Dance Awards Nationals in Boston, MA – with the first competitive piece she had ever choreographed! In the Spring of 2012 she joined the American Dance Awards team as a judge and faculty member, and the rest is history. In addition to her work with ADA and ADA in Class, she currently guest teaches and choreographs across the US and Canada. Julie's favorite part of her work is that it gives her the opportunity to help students come to realize their full potential as dancers, artists, and people.
Participating in American Dance Awards since 1998 as a competitor, teacher, judge, faculty member, and now a Director has given her a great appreciation for and first hand experience of the pillars on which this company is built – integrity, education & inspiration. Julie is honored to help lead ADA into its next 40 seasons of family friendly, education based dance competitions and events.
Tour Director, Canadian Dance Awards
With over 20 years of experience as a professional dancer, dance educator, international adjudicator and choreographer, holding a BPE with a major in Dance, from the Universities of Alberta and Otago (New Zealand) Breanna Willis is thrilled to bring her love, passion, and dedication to dance into her new role as tour director of the Canadian Dance Awards. Originally from Sherwood Park, Alberta, Breanna's passion for dance and travel has led her to perform and choreograph in film, TV, and on stages across Canada and the world, including The Stratford Festival (Guthrie Award Recipient), Canadian Opera Company, Vancouver Opera, and Drayton Entertainment to name just a few. Her love of teaching and choreography began at a young age and in 1997, she began her teaching career.
Over the past 23 years she has honed her skills as a dance educator, working with all ages and skill levels, and is committed to the development and growth of every performer with whom she works. She is an award winning choreographer both nationally and internationally, working with dancers from across Canada, the US, Germany, South Africa, Slovenia, Russia, Australia and New Zealand. She has travelled and danced her way to nearly 60 countries, and Breanna now calls Stratford, Ontario home. In 2018 she founded the Stratford Dance Collective, a drop in dance and training program for aspiring and professional dancers. In 2003, Breanna began adjudicating dance festivals and competitions across Canada. In 2009 she obtained her license with The International Dance Organization, and currently represents Canada as a judge and choreographer for their events in Germany, Poland, the Czech Republic, South Africa and Mexico. Her choreography has brought home 5 gold, 1 silver and 3 bronze medals in jazz, tap and streetdance show categories.
In 2012, Breanna began working with ADA as judge at Nationals in Florida, and since that time has judged regional, national and international events in South Africa for the company. Breanna is now branching out into the role of Tour Director of the Canadian Dance Awards and could not be more excited for this endeavor.
Fostering growth, and creating opportunities for dancers to realize their potential, to deepen their connection to their art, and strengthen the Canadian Dance community as a whole is what drives and motivates her. She values and cares deeply for everyone in the dance community, and hopes to inspire each and every dancer that takes the stage with CDA, creating positive experiences and memories that will last a lifetime.
.